Becoming A Content First Business
Gives you guided scripts to create engaging short form videos so that you can master being a content first business! 
In this fast-paced digital age, ecom owners are always seeking innovative ways to cut through the competitive noise to connect with their audience.
With the crazy rising cost of paid ads kicking us all to the curb, it means I have to seek out organic and cost-effective strategies to teach my Elite Team. One that works best for my own ecommerce store and when done right will give you results like never before. Creating engaging short form videos for your ecommerce store.
In this blog, I'll take you through the pot of gold that is short form videos as well as how to effectively structure them to keep viewers hooked from the start to the beginning. 
The Importance of Short Form Videos for Ecommerce Businesses
Unfortunately, we live in a world where attention spans are minimising and with that comes a shorter time to keep someone hooked on your video. That's where short form videos come into play, this powerful tool is strategically set up to last no longer than the attention span of the average person, so that they have more incentive to watch till the end. Platforms like Tiktok, Instagram and Youtube have become the hottest places for viral content, which offers ecom businesses the opportunity to put their brand and product in front of an audience… for free. Short form videos allow you to convey a message which gets a response, leaving an impact and a long lasting impression on the viewer. Incorporating short form videos into your marketing strategy is a highly strategic way to drive organic traffic, increase brand awareness to drive sales to your store.
Scripting Your Short Form Videos
To truly grasp the potential of short form videos, it's crucial to approach them with a well-thought out script. A script serves as the backbone of your video, guiding the narrative and ensuring that your message is effectively communicated. Let's explore the key components of a compelling video script:
Video Hook:
The video hook acts as the attention-grabbing opener that immediately captures the viewer's interest. It should be alluring, punchy, and show the unique value your product or service offers is that's what your video is about. By crafting a highly engaging hook, you'll entice viewers to keep watching and find interest to learn more about your business.
Relate & Solve:
Right after you've captured their attention, it's crucial to establish a connection with your audience. Show that you relate to their pain points or challenges and show or explain how your product or service can provide a solution. By addressing what their needs are and showcasing the benefits of your offering, you'll instantly build trust and establish yourself as a reliable source of solutions.
Process & Prove:
Next, guide your viewers through the process of using your product or service. Break it down into simple steps and highlight the unique features or advantages that set your offering apart from the competition. Back up your claims with real-life examples, testimonials, or data to provide credibility and prove the effectiveness of your solution.
Success & CTA
End your short form video script by showcasing the success stories or results that customers have achieved by using your product or service. This builds social proof and instills confidence in your audience. Finally, include a strong call to action (CTA) that prompts viewers to take the next step, such as visiting your website, making a purchase, or subscribing to your newsletter.
In the face of endless rise in paid ad costs, ecom businesses owners need to adopt a content-first business approach that leverages the power of short form videos. Through the creation of engaging and compelling videos with a well-crafted script, you can effectively reach your target audience and then some, whilst also driving organic traffic to boost your sales. Take full advantage of the opportunities offered by platforms like TikTok, Instagram, and YouTube, and position your ecommerce business as a leader in your industry. With the right script and an emphasis on becoming a content first business, you'll thrive in the ever-evolving digital landscape.
So, don't let rising paid ad costs hold you back. Take charge of your ecommerce success by taking charge of short form videos with scripting.
The Short Form Video Script Template
Gives you guided scripts to create engaging short form videos so that you can master being a content first business!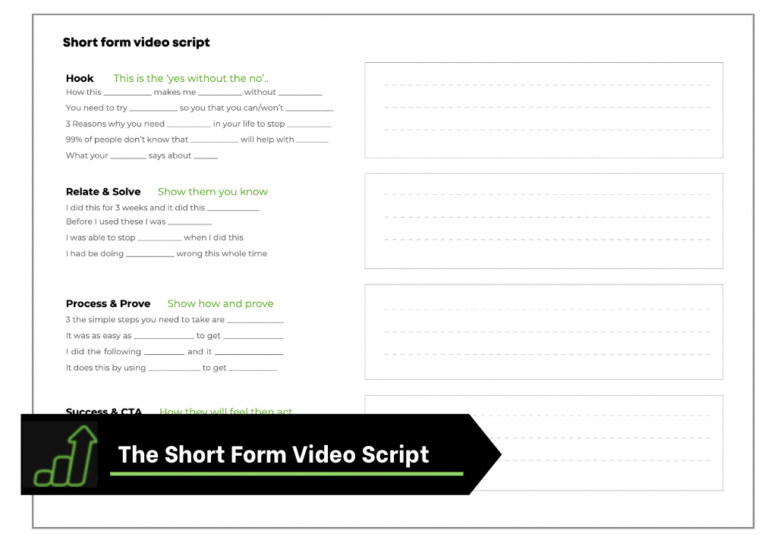 The Short Form Video Script Template helps build a script by;
 Providing video structure
for your short form videos
Has engaging script ideas
to keeping viewers watching till the very end
  Gives a script guide to use every time
so that you can start becoming a content first business