Level Up With SMS Add-Ons
Level up your SMS marketing with flows that turn abandon carts into converting customers and one time purchasers into loyal buyers.
Let's talk about a powerful tool that you might not have fully embraced yet: SMS messages for your brand. I get it; you might have reservations about sending SMS messages to your customers, especially if you're not a fan of receiving them yourself. But let me tell you why it's a mistake you don't want to make!
Think about it – people receive an overwhelming amount of emails daily, and let's face it, they don't always have the same impact they used to. That's where SMS comes to the rescue. SMS messages have a higher chance of being read and clicked because they cut through the noise and create a more personal connection with your customers.
Imagine having a 1-on-1 conversation with your customers, rather than just bombarding them with automated emails. That's the power of SMS – it feels personal, relevant, and valuable to your customers.
If you're currently relying solely on automated emails, chances are your messages might get lost in the sea of other brands doing the same thing. It's time to level up your marketing game by adding SMS messages to your flows.
Add SMS To Your Flows
Welcome, abandon cart, and thank you flows are perfect places to incorporate SMS. By doing so, you make your messages relevant to your customers' behavior, and it won't feel like spam. SMS boasts higher open rates and click-through rates, and people don't mind receiving it if the content is useful to them.
But here's the real secret: knowing exactly what SMS add-ons to include in your flows is the key to achieving those desired conversions.
Personalization
Consider personalizing your welcome messages to give your customers a warm and engaging introduction to your brand. Use SMS to remind customers about their abandoned carts, adding a personal touch that increases the chances of recovery. And don't forget to show your appreciation by sending a heartfelt thank you message to your customers after they make a purchase.
Now, I know what you're thinking – it's not about spamming your customers with constant messages. It's about delivering relevant, timely, and valuable content that enhances their shopping experience.
So, how do you know what content will hit the mark? Understand your customers. Segment your audience based on their preferences and behaviors, and tailor your SMS messages accordingly.
Create A Conversation
Remember, the key is to create a conversation with your customers, not just broadcast marketing noise. Treat your SMS messages as an opportunity to engage, provide value, and build a relationship.
If you're unsure about where to start or how to implement SMS effectively, fear not! As your ecommerce coach, I'm here to guide you through the process. We'll work together to identify the best SMS strategies for your brand, ensuring they align with your goals and customer preferences.
So, let's make the most of SMS's potential and elevate your ecommerce game. Embrace the power of personalized, relevant messaging, and watch your conversions soar.
The SMS Add-On Flows Template
Level up your SMS marketing with flows that turn abandon carts into converting customers and one time purchasers into loyal buyers.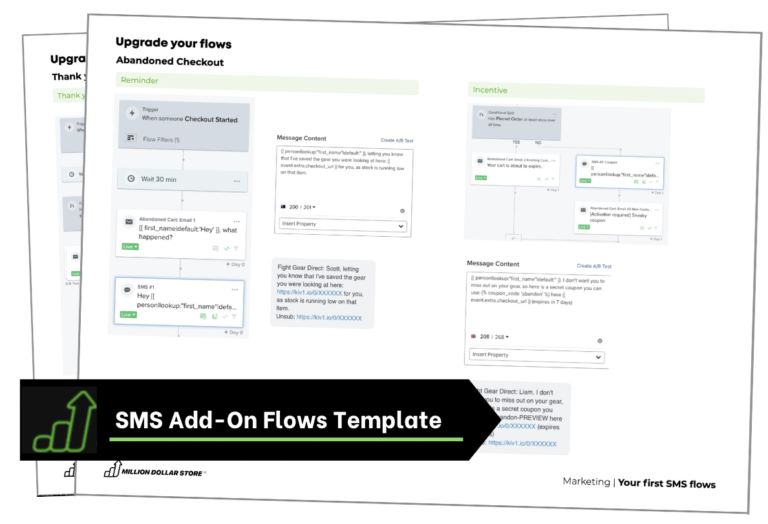 The SMS Add-On Flows Template helps build converting flows by;
 Providing SMS add-ons
to increase the chance of conversions in your flows
 Including SMS incentives
to strategically entice them to finish their cart.
  Personalising your thank you SMS flow
so that you can turn once off customers into loyal buyers.