These Numbers Will Scale Your Online Store
Know the numbers of your ecommerce store to guide your decision making for the future!
Ecommerce is a crazy world where knowing your numbers and data play a huge role in the success of your Shopify store. Understanding the importance of knowing your numbers and using what you know about them to make informed decisions for your business. That's why I created The Ecommerce Performance Audit Template, which is used by other ecommerce business owners to help analyse and understand the key metrics that drive the performance of your store.
Let's dive into the three key metrics of data from your ecommerce store that you will need to know like the back of your hand: Traffic, Conversions & Average Order Value (AOV). 
Traffic: The Lifeline of your Store
To really gage the performance of your store, you need to have a really good understanding of where your traffic comes from. Traffic is made up of paid (ads), earned (email, direct & sms) and owned sources (organic social, SEO, referrals and direct). By understanding the distribution of your traffic sources, you can identify any areas of opportunity and focus your marketing efforts into enhancing those channels to bring more people into your world and visiting your site.
Conversions: Turning Browsers into Buyers
Conversions are the winning factor of your store, because by this point you've turned viewers into customers. Understanding the valuable insights of your customers behaviours pre and post purchase is really important for knowing what works, so you can replicate it for the future. Digging into the shopping funnel (PDP views, add to cart, checkouts and transactions) is crucial for understanding the roadblocks and areas where visitors might be bouncing or exiting. Then examining the behaviour on your top five pages will give you insight into what might be resonating with your audience so that you can optimise your site to have a better chance at increasing your conversions for the future.
AOV: Maximizing Every Transaction
Average Order Value (AOV) is an overlooked metric and one that can significantly impact the profit of your business. Gaining insight into your AOV and the number of units sold per transaction will help to identify the value of your customers. As well as unpacking the value of your customers over a 12 month and total life time period, which will give you an understanding of how much a customer will spend with you over the duration of your business to customer relationship. With this information you can strategise ways to increase your AOV through upsells and cross sells techniques so that the value of each customer increases, which will drive sustainable growth for your business. 
Setting Goals to Make Informed Decisions
By knowing your numbers and understanding the meaning of these ecommerce metrics, you'll be equipped to set realistic and thoughtful goals for your ecommerce store. Whether you want to increase traffic, improve your conversion rate, or boost your AOV, having a solid understanding of your numbers will help guide your decision-making process.
Finally, understanding the numbers behind your Shopify and ecommerce stores is essential for long-term growth. The Ecom Performance Audit Template empowers you to assess and analyze your Traffic, Conversions, and AOV metrics, giving you the insights you need to make informed decisions. By leveraging these metrics, you can set goals, optimize your strategies, and ultimately drive the growth and profitability of your ecommerce business. So, get started on your performance audit today and unlock the full potential of your Shopify store.
The Ecom Performance Audit Template
Know the numbers of your ecommerce store to guide your decision making for the future!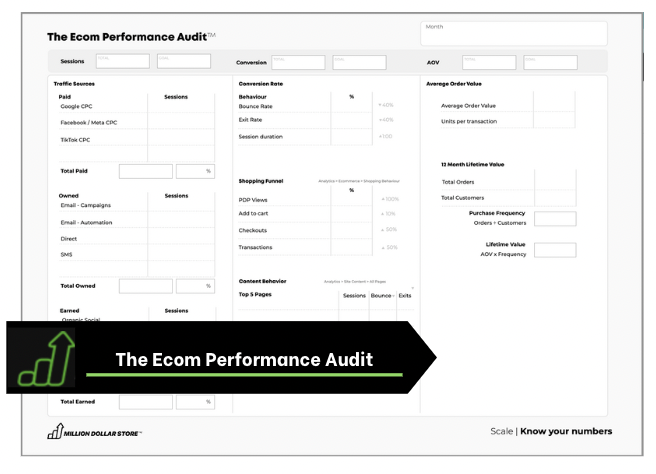 The Ecommerce Performance Audit Template helps you by;
 Breaking down your traffic sources
So you can understand where your traffic comes from
Understand your conversions 
So you can know your customers shopping behaviour
  Analyse your AOV
So that you can understand your customers lifetime value