How To Get Reviews For Your Shopify Store
Gives you touch points and ideas on how to get the best reviews from your customers!
Let's get real about one thing, reviews are everything in today's digital age. They can really make or break your whole brand, so with this in mind it's crucial to understand why they are so important and how they can help your business increase conversions and grow!

First off, reviews provide a form of social proof for your products and brand. It's like having your customers shout out from the rooftops about how incredible your products are, which in turn builds ultimate trust and confidence in your brand for potential customers.
But wait, there's more! Did you know that reviews also have a huge impact on your search engine optimisation ranking? That's right, search engines like Google use reviews as a ranking factor. So, by having more positive reviews means that you're more likely to have a higher ranking in search results. More visibility = more website traffic = more sales. Cha-ching!

Now, let's talk about how and when to ask for reviews. The key is to make it crazy easy for your customers to leave a review is by to ask for them at the right touch-points throughout the customer journey.

Ask For A Review In The Order Confirmation Email
One of the best ways to ask for a customer review is to include a 'Tell us how we did' section in the order confirmation email that comes written from the CEO. Adding this personal touch to an email can help build a relationship with the customer and encourage them to provide feedback, whether that be good or bad. The "Tell us how we did" section gives the customer an opportunity to provide feedback about the shopping and buying experience even before receiving the product. That way you can knock out any roadblocks that they might have experienced throughout their journey that may deter anyone else from not buying from you.

Send a Follow Up Email Asking For A Review
Let's be real, not everyone reads their emails! That's why another touchpoint to ask for a review is by sending a follow-up email thanking the customer for their purchase. In addition to that ask them for a review on Google, Facebook, and Trustpilot by linking them in the email to make it super for them to click through and do. This email can be automated and triggers 24 hours after the order confirmation email has been delivered, giving the customer a chance revisit the review after they have placed the order. 

Provide An Incentive To Leave A Review
You can also change it up by giving some kind of incentive for customers to leave a review with a chance go into the running to win a competition or give them a discount code. Who doesn't love a discount or a prize, am I right? Incentivise the chance to win a competition or score a discount code in exchange for leaving you a review. Not only does this encourage reviews but also helps build customer loyalty.

Send A Follow Up Email On The Incentive To Leave A Review
And don't forget to send a friendly follow-up email as a reminder for the customer's previous chance to win, by letting them know the competition or discount code expires soon. This builds up a level for scarcity so that they feel the need to jump on the band wagon to write a review before it's too late. This can be done three days after the initial email to remind the customer that they still have a chance to win or receive a discount if they leave a review. This is a really great way to increase the number of reviews received and ultimately improve the social proof of your business.

Lastly, customer reviews will be your best friend when it comes to scaling and growing your ecommerce business. One thing to note is to not be afraid to always ask for reviews at the right touch-points in the customer journey, and just remember to make it as easy and fun as possible for your customers. With the right approach, you can turn your satisfied buyers into your most valuable repeat customers. So, let's go crush those reviews!
The Review Multiplier Template
Gives you the exact email templates that will have your brand & product reviews multiplying on autopilot!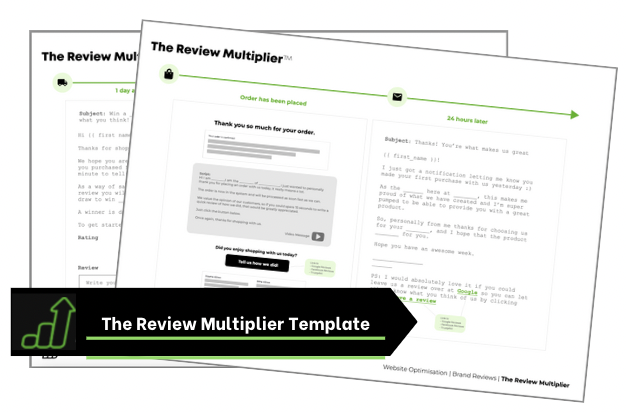 The Review Multiplier Template helps multiply your reviews by;
 Giving the exact email templates
for you to use to get heaps of reviews from your customers
  Outlines the flow of your emails
which you can apply to your own email marketing platform 
  Gives you highly converting copy
so that you can get the best reviews out of your customers