How To Get Customers To Keep Coming Back
The playbook for creating programs and experiences that encourage customers to come back every single time.
As ecommerce business owners we all know that getting the first purchase from a customer is the hardest part. But keeping customers after their first purchase is the second most important thing that we tend to not put as much effort into.

We work in such a competitive market, where we have to work just as hard to keep the attention of people to stay front of mind.

Think of purchasing online like dating someone in the real world.

The first purchase is when you successfully land yourself a date, and you really like that person so you pull out all the stops to score yourself a second date.

It is just like buying online.

If you purchase something online and never hear from that brand it usually leaves a really sour taste in your mouth, just like dating. So you need to keep doing things that keep you front of mind the second the person makes an order for them to keep buying from you time and time again.

So here's how you do it:
Step 1: Create Memorable Experiences
Think of this as the first train stop of your customers' buying journey. So, here is where you will flip that customer from buying a once-off buyer into a loyal repeat buyer. 
Thank You Messages: Start with a simple heartfelt thank you, as this is key to getting the customer to know you are appreciative of their purchase with you.
Delivery Updates: Always keep the excitement alive with timely delivery updates throughout the whole dispatch period.
Dispatch: Send out their products promptly. In fact, aim to beat your own expectations and dispatch times stated on your website. Because who doesn't love a surprise early package arrival?
Enhance the 'In-Parcel' Experience
Unboxing a package should be a grand event, not just a transaction. Here's how to make it unforgettable:
Surprise Gift: Include a little extra something, it could be a small sample, a sticker, or a branded keychain just for the element of surprise and reward for purchasing.
Personal Note: Add a handwritten thank you note, signed off by you to show a sense of human-to-human interaction.
Unique Packaging: Invest in branded packaging to show off your brand's identity, to give it that extra insta-worthy moment. 
Bounce Back Offer: Slip in a coupon or an exclusive offer for their next purchase. Plant the seed of loyalty for repeat purchasing.
Share and Win: Encourage them to share their unboxing experience on social media with a special hashtag. You could feature their posts on your page and give them a spotlight for sharing their experience. Think of it as another form of free UGC. 
Step 2: Persuade to Come Back
Because your customer loved your product in the first place, the chances are they would buy again, if not the same product, but something close to it. 
Replenishment: If you're in the business of consumables, offer an easy replenishment program. Think JS Healths "Subscribe + Save 15%." It's a convenient way to get people to keep buying with little to no effort on their behalf.
Associated Products: Suggest some related products based on their first purchase. If they bought wall art, recommend some matching cushion covers from the same range. It's all about upselling without being pushy.
New Products: Showcase your latest arrivals. Keep them curious about what's new dropping on your website. It's like soft selling your new launch.
Step 3: Reward Loyalty
Just like a loyalty card where you buy 9 coffees and get your 10th free at your favourite coffee shop, reward programs can turn one-time buyers into loyal fans.
Spend and Save: Offer discounts for reaching specific spending thresholds. The more they shop, the more they save.
Earn Points: Implement a points system where they earn points for every purchase or for doing things like reviews, liking you on Facebook or following you on Instagram. These points can be redeemed for discounts or if they have enough points banked up then offering them freebies.
Get Coupons: Systematically send them exclusive coupons or offers when they reach an anniversary such as 1 year of their first, second or third purchase with you. It's like receiving a nice little surprise gift every now and then.
Step 4: Win Them Back
Unfortunately, you'll lose customers along the way sometimes. But don't give up on them just yet, there's still room to win them back. Here's how to bring them back into your world:
Price Drops: Notify them when the price drops on a product they've viewed before. It's an excellent way to reignite their interest.
Secret Offers: Send out exclusive offers to your dormant customers. Make them feel like VIPs who are privy to secret deals.
Invite-Only Events: Host special events or sales exclusively for past customers. The feeling of exclusivity can be a powerful motivator.
Lastly, the repeat purchase plan isn't just about boosting revenue; it's about building lasting relationships that can last a lifetime. When you create memorable experiences and implement incentive programs that cater to your customers' needs, you're not just selling products – you're selling an unforgettable journey that your brand can give them.
Get the playbook for creating programs and experiences that encourage customers to come back every single time.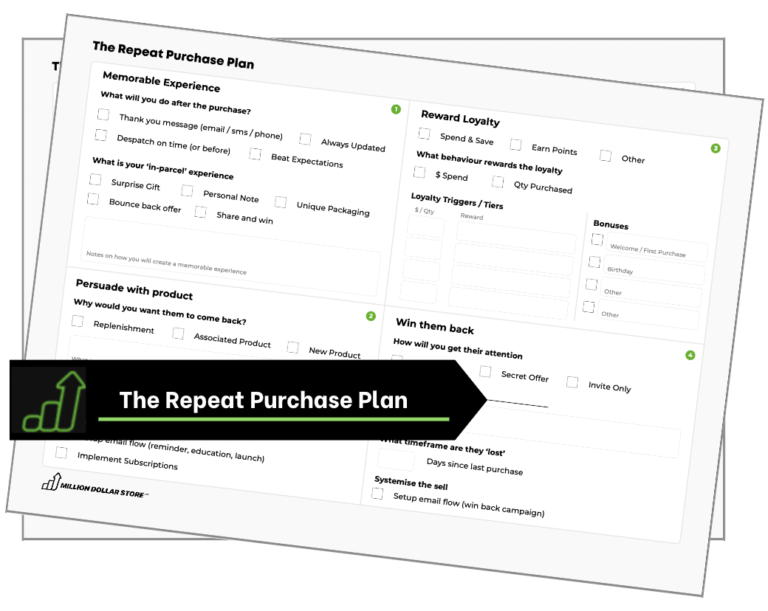 The Repeat Purchase Plans helps by;
  Giving you a checklist
for enhancing the customer experience
 Increase customer LTV
with ways to provide value
  Personalising your post-purchase plan
so that you can turn once off customers into loyal repeat buyers.