The Quickest, Most Explicit, and Straight-Forward Path to
$10,000 Month in Your Ecommerce Business

🎥 Watch  this video to see behind the scenes of The Bootcamp
For Startup Entrepreneurs who want to turn a side hustle into a cash making machine.
Learn strategies from successful brand owners 
 Live coaching calls every fortnight to help mentor and guide you through the program
  Access to a Private Community of Ecommerce Entrepreneurs 
100+ hours of proven step by step strategies
  New advanced up to date strategies loaded regularity
24/7 support from our expert team
Strategies so Simple, Easy to Implement, and Effective that You'll Kick Yourself for Not Thinking of Them Sooner
I'm Brendan Gillen, and I've spent the past 15 years in the E-Comm space, building 7 & 8-Figure businesses and helping others to do the same. 
If you're already doing better than $10K per month, this course isn't the right one for you. 
(You'll want to reach out to me directly, to start working toward 6 figures per month or more.)
But if you're: 
Still struggling to generate enough sales to make your side hustle a full-time business

Wondering if you were conned into starting a business in a space that's simply "too saturated" to make money

Sick of Consuming Hours of Free Content that Promises to Fix Your Cashflow Issues but Never Delivers

Ready for a Straight-forward Guide that Gets you to your first $10,000 month and puts that process on autopilot
Then you'll want to read this entire page. 
I Know Exactly How You Feel…
You'd probably rather chew on a mouthful of cactus than dive into another Youtube e-Commerce "Tutorial".
I know because I've been there— and so have hundreds of new and experienced business owners that I've worked with over the years…
By the time I crossed paths with them, they pretty much all had the same stressed-out, haggard look about them. Bags under their eyes, fingernails bitten down to nubs, and the extra one or two kilos, I've come to call the "E-Comm belly". 
Nine times out of ten, our conversations started with something like:
"I'm either getting this off the ground soon, or I'm getting out…"
Like you, they had the drive to dive into the marketplace. They wanted to build a business and grab a slice of the seemingly ever-growing e-com pie.
The problem?
They were —or at least felt they were— constantly one step behind the market…
Getting enough of the fundamentals in place to generate a handful of sales each month at best, but struggling to get beyond that if they ever did…
Far from the "bucket loads of money" they were promised by e-commerce gurus who'd been chirping in their ears for years until they finally jumped in…
Ironically— those gurus weren't wrong… In the past few years the e-commerce market has continued to grow and even Accelerated, meaning there's more opportunity than ever to earn! 
But like any market, there's a massive learning curve, and mastering it all yourself can be like learning to build a car from scratch— which is why we've thrown together what many consider…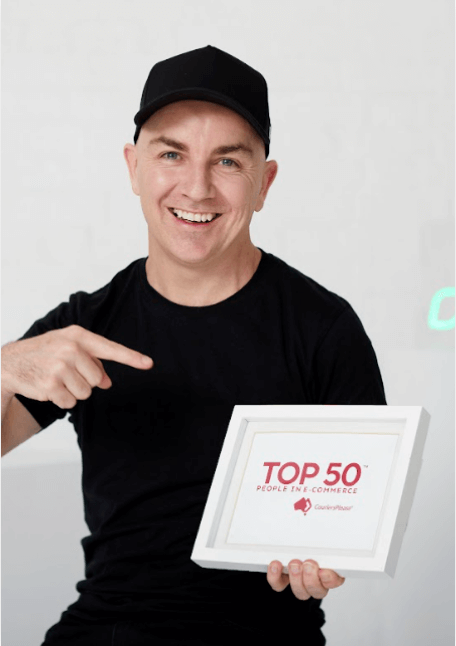 My team and I have been at this for a long time now— over 15 years in fact.
And along the way, we've built and rescued so many companies that hitting $10,000/month has pretty much become our benchmark for "beginner" level clients.
We've isolated the principles that work and trimmed the fat, leaving behind a simple set of steps that are guaranteed to work and get your business up and running in as little time and effort as possible—
As a matter of fact, I currently run a $1 million/year Shopify store that I purchased for $9k using these very principles.
And we've helped some up-and-coming brands become the top of their fields, bar none…
(These exploits, may or may not have gotten me ranked in the Top 50 people in E-Commerce 3 times… But you didn't hear that from me…)
So, with all this success between my team and I, you're probably wondering…


"If you are so good, why sell a program?"
Why I'd bother when I already run my own 7 figure Shopify store?
When we're already helping them rake in so much money we could fill tubs with it and take a bath…
There are two answers— one is selfish, and the other isn't quite so much. 
For starters, I'll always remember how hard it was to get my feet off the ground as an e-Comm business owner. The countless hours on Youtube back when there wasn't nearly as much guidance as there is now.
The feeling of staring at your backend hoping that today you'll get that sale that will keep you going for one more week. The frustration of not understanding what to do to get your next big breakthrough. 
I want to be the light in the darkness for new store owners who are in that same spot.
The second reason?
Frankly, there's a massive financial incentive to helping small businesses get bigger— especially since I work with many of the biggest brands in the world. 
Ultimately, the more of you that I can make fantastically wealthy, the easier I'll have it to find new clients for my own businesses. 
We all become wealthier and more secure together.
And we'll make it easy for you.
As a matter of fact…
It's not just me that thinks this is an awesome program, check out what past students are saying, and their results….
You'll Only Ever Have to Invest a Few Hours Per WEEK to Start Seeing Real Change in Your Business…
Seriously, we've done all of the hard work for you. 
Over the past 15 years of being in this space, we've done the research and isolated EXACTLY what works and put that into lessons so easy to digest an 8-year-old could manage them.  
Plus, we're always doing the work necessary to stay ahead of the market. So you won't have to worry about that either. 
All we need from you is a few hours of your time every week and a little bit of elbow grease to get things set up. 
We'll even work with you directly to ensure that it's all functioning seamlessly, so you won't have to worry about wasting hours troubleshooting things on your own.
You can just sit back, and watch the sales roll in. 
Honestly… once you're done… your biggest problem will be managing the massive increase in sales volume…


Here's a Preview of What You'll Get Inside
You'll:
Learn How to Set Your Store Up for Maximum Profit
Discover Why and How You Need to Build Our Optimised Home, Collection, & Product Pages
Work With Our Team to Troubleshoot and Ensure That Everything Works Together Seamlessly
In this week, we'll discover your Unique Value Proposition— the one or two elements that separate you from the rest of the playing field. 
How to Communicate Your UVP in a Way That Makes Your Prospects Drool

How to Understand Your Prospects Better Than They Understand Themselves
The Exact Psychological Triggers That Get Customers to Buy and Keep Buying
That's not a typo. We'll reveal our proprietary SEO strategy that draws in more leads than you can handle.
Where do customers come from and how to snatch their attention (whether they want to give it to you or not)
How to ensure your traffic is maximally profitable
How to setup Facebook ads like a pro
The ultimate guide to creating Google Ads
Email is a sadly misunderstood and often misused tool that can really make or break your business. 
We'll show you the exact steps you need to follow to maximize your profits without coming across as annoying or cheesy.
 Setting up your email platform for maximum efficiency
The exact formula for getting customer email addresses
The ultimate cart abandoned email flow that makes prospects feel like they're missing the opportunity of a lifetime
 Learn SEO fundamentals
 Understand how to apply best practice ecom SEO
Drive more traffic sources to your store using key SEO strategies
Your analytics are like a heart rate monitor for your store. You need to understand what every blink of every meter means, in order to properly diagnose any issues that could be holding back your sales. 
 Understand the ins & outs of your store's analytics
How to use that information to solve bottlenecks or break through plateaus
How to harness customer feedback to find your next big breakthrough
Access to the Ecommerce Bootcamp Means More Than Just Access to Our Modules, You'll Also Get:
Live Coaching Calls Every 2 Weeks
You'll have direct access to yours truly, and all of my experience, every two weeks in a Zoom call that gives you full license to ask any questions you need to seek clarification on any facet of the program, or problem you're facing. 
12 Months of Access to The Entire Library of Learning Material and Any New Modules That We Create
You'll have an entire year to take and retake the course modules. Refreshing your knowledge, and deepening your understanding along the way.
Access to a Community of Like-Minded E-Commerce Business Builders
You won't be making this journey solo.
You'll be working alongside my team, myself, and a group of e-Comm business owners, all taking the same steps to finally take control of their business, and have predictable profitability.
Sounds great Brendan… but how much is it?
We'd price a program like this at around $4,797.
But, for a limited time, we're actually offering a massive discount on new memberships and the reason is simple—
We're in the most turbulent economic times we've seen in decades, and we want to help as many people get to the next level as we possibly can. 
To facilitate that, we're offering access for just $997 to the next 15 people who come on board.
💰 
Join Me Today and Get Access to These FREE Bonuses
💰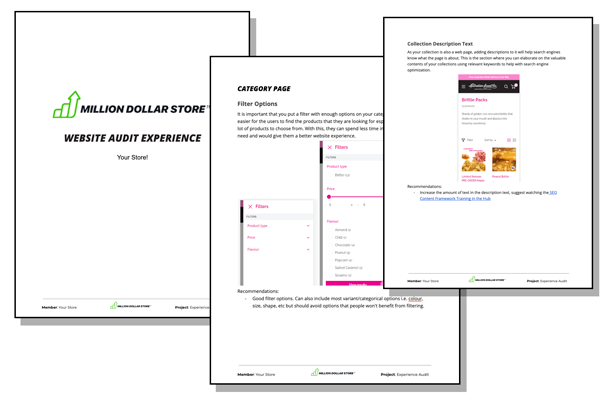 A Full Website Audit and Conversion Rate Roadmap (Worth $497)
Help You Dodge the Common, Clumsy Mistakes Most New Owners Make
My team and I will take a deep dive into your site where we'll map out all of the critical mistakes you're making that are currently hurting your conversion rates, plus, changes you can make to boost conversion even further.
(These audits are normally reserved exclusively for our 7-figure clients!)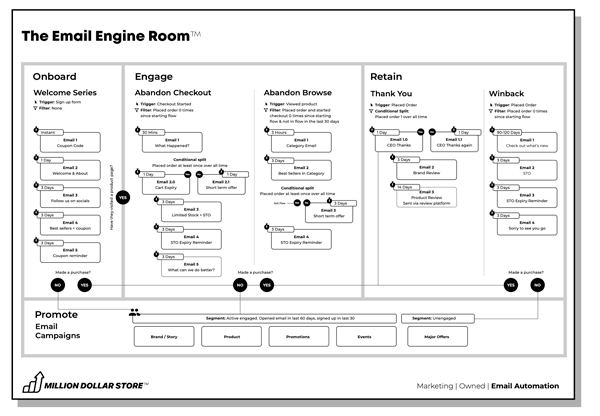 The Email Engine Room (Worth $997)

The Exact Blueprint to Email Success Including the Templates I Use to Generate over $1 Million in Revenue each Year
Follow this step-by-step guide to set up your Klaviyo in the exact same way that I've set up all the 7-figure stores I run. 
(This is literally like plugging a money printer into your shop.)
Total Value $6,291
Today's Ecommerce Bootcamp Price: $997
Or 3 x Payments of $397 per month
Copyright © Million Dollar Store