How To Grow Your Email List
Craft an offer that customers want to sign up to and learn how to capture more information

Imagine your ecommerce store having an email list that isn't just a typical list – but a list with enthusiastic beings who are eagerly waiting for every update you make.

They thrive off your brand's content and they love everything you stand for.

But your probably wondering where do I find these people?

Today's blog will show you how to find these exact people and the incentive strategies you NEED to implement into your ecommerce business to have your email list skyrocketing in every way it can. 


The Triple Threat of Temptation
Discount: We all are eager for a good discount, so serving up an unbeatable discount is the best way to capture someones attention. Customers get a deal, and you get a place in their inbox, it's a win-win!


Competition: If you aren't someone who gets excited about winning something, then there's something wrong with you! That's why launching a competition for people to join your email list is a the golden ticket to winning them over. 


VIP: Who doesn't want VIP treatment? By offering exclusive access, deals and events, it makes people feel special because they get the inside scoop that others will miss out on. And for that you'll have a loyal buyer, and they'll get that VIP treatment that they desire.

Unlocking the Vault of Information
The opportunities for capturing data is now endless, so it's not just about asking for their name and email anymore. For premium incentives, you want premium information. With more details it opens the door to more personalisation… and with more personalisation comes more loyalty. 
The Inescapable Capture Spots
Website:
Your site is your virtual playground. So capturing data in any way you can is a win. Try pop-ups, fly outs and app notifications to grab the attention of those who are browsing your site. Oh, and don't forget to make sure they are both optimised for mobile and desktop.
P.S. Another underrated incentive to add to your site is an on-exit discount, it meant for anyone who enters your site and before they exit they are shown a pop-up to incentive them to shop with a discount.

 

Checkout:
Your checkout page is your final frontier. Slide in some super sweet copy to urge visitors to hop on the email train to seal a the deal before purchasing.

 

Ads: Facebook lead ads and Google Ads sitelinks are the sneaky ninjas of email capture. They let users join your list without derailing their online adventures. Super sneaky, right?
Multi-Channel:
Now the key is to not stick to one platform. Show and shout your incentives from the virtual rooftops in any way you can – whether that be on your social media, posts, Facebook groups and blog posts. Make sure you make your incentives impossible to ignore.

Carving the Path to Email Glory
Now with these strategies in place, you'll become the email list king using every way you can to get people on your list by providing urgency and value. By making them fell like they're missing out by not signing up to your email list. 
So there you have it folks, the exact playbook to growing your email list with every effective strategy in the book. With all of these in play you'll be watching your email list explode with people signing up to be apart of your world and reap all the benefits that come with it.
Craft an offer that customers want to sign up to and learn how to capture more information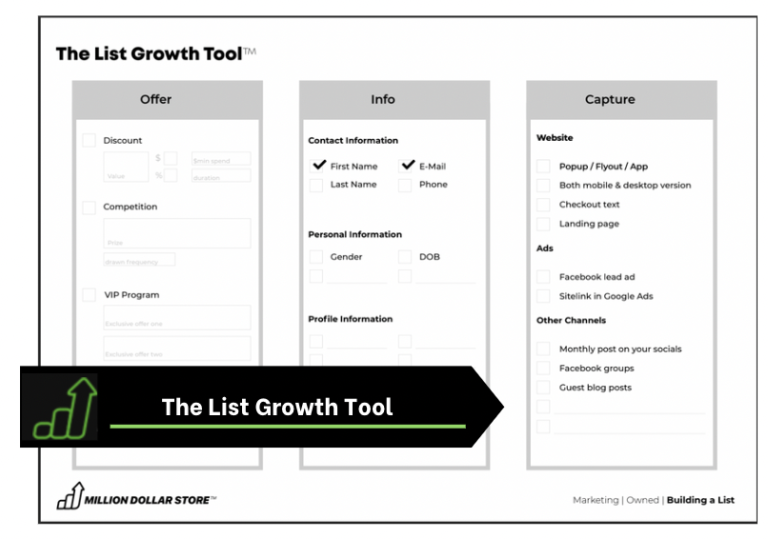 The List Growth Worksheet helps you by
;
Creating an offer that works
So that your customers want to give you there details
Builds your email & sms list
By capturing people on and off your website
  Increases your ROI
So you can create personalised emails that generate sales